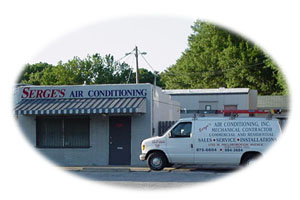 Our business is a family business of heating, ventilation, and air conditioning; Residential, Commercial, and Industrial.

Established in 1971 by Sergio L. Vazquez a state certified HVAC contractor License #CACO16003. A true family business owned and operated by Sergio, Sara, and John Vazquez at the convenient location of 1755 W. Hillsborough Ave. Tampa, Fl. 33603. Our service and installation jobs are done and managed by John Vazquez, a stated certified HVAC Mechanical contractor License #CMCO57038. John Vazquez, Sergio's son, has been working with his dad since 1987 and licensed since 1999.

Our peace of mind goes a long way knowing that a second generation is continuing in his fathers footsteps to provided top quality professional service and installations. When you call Serge's air conditioning you're not talking to any second men, you're actually talking to the owners and operators. You can call us anytime day or night. We have fully stocked Nextel radio dispatched trucks.

Tip: 75% of all early equipment failures is committed by the installers sloppiness and not the equipment itself!! Call a professional!!

Tip: Upgrading your air conditioning system can save you up to 60% on your electric bill.

We are a minority business enterprise certified to do special jobs for the government, state, county, and city.